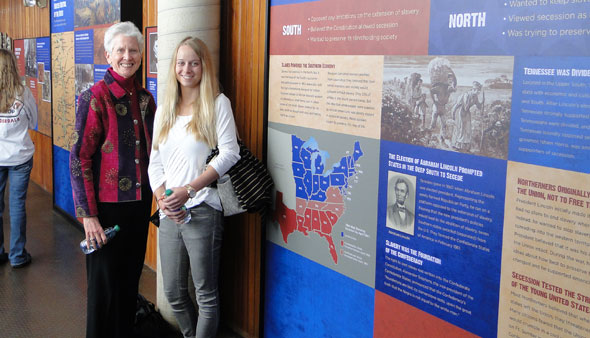 Fort Pillow State Historic Park – West of Henning in Lauderdale County In 2014 the MRCT opened a major exhibition at the Fort Pillow State Historic Park inside the Museum/ Visitors Center. The new exhibition details the major trends and reasons why the Civil War started, and what prior events contributed to the controversial battle at Fort Pillow. The visitor counts to the Park have increased by 40% since the exhibition opened in October 2014.
We invite you to plan a day-trip to visit the new exhibition and to hike the beautiful trails located inside Fort Pillow. A great experience awaits you in the Mississippi River Corridor – Tennessee!
Other Current MRCT Projects
1) Mississippi River Network – 1 Mississippi Campaign (ten states)
The Mississippi River Corridor – Tennessee (MRCT) has served as a Regional Coordinator for the Lower Mississippi River since 2009. MRN is a coalition of organizations dedicated to protecting the Mississippi River for the well-being of the land, water and people of the United States. www.1mississippi.org
2) MORE – Mid-South Outdoor Recreation and Education (Pilot Education Program) The MORE program format is an experiential-interdisciplinary education curriculum and community alliance for underserved youth that focuses on environmental and cultural issues in the region.
Studies and lesson plans about the Mississippi River and its watershed are the overarching theme for state certified curriculum that addresses history, culture, environmental issues, science and potential careers associated with the river. We take students outside the typical classroom and immerse them in "field lessons" that take place on riverboats, Mud Island River Park & Museum, Meeman-Shelby Forest State Park, Chucalissa Museum and numerous other locations in the area. The program initially began in the fall of 2013 with 6th grade students from two Frayser ASD schools and Soulsville Charter School with approximately 300 students.
3) Reelfoot Lake State Park – Tiptonville, Lake County – TN
The MRCT is currently constructing a $2M dollar Interpretive Visitors Center at Reelfoot Lake State Park. We are also redesigning the current exhibits in the Donaldson Visitors Center and have recently completed major upgrades to the catering kitchen located inside the adjacent Ellington Community Center.
4) CCC Mississippi River Camp – Meeman Shelby Forest State Park
The MRCT has completed final Contract negotiations with the TN Department of Environment & Conservation (TDEC) to create a Restoration Plan for this historic camp which has been closed to the public for the past twelve years.